Nurturing AKC Champion Bloodline West Highland White Terriers to champion AKC events, your Home and your Heart.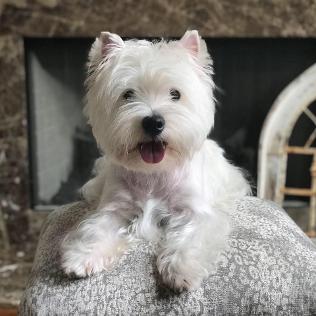 We are so glad to have you visit our site in honoring such an amazing breed of dog. If you do not own a West Highland White Terrier we hope this site encourages you to fall in love with them and seek out a Westie Rescue or become a family for a West Highland Terrier puppy. We trust God will bless your life with that perfect Westie (or Westies), as he has ours :) Please call us as we would enjoy the privilege of talking about this wonderful breed.
WE TEST OUR WESTIES FOR THE FOLLOWING AT THE APPROPRIATE AGE:
Craniomandibular Ostepathy (CMO)
Globoid Cell Leukodystrophy (Terrier Type)
Pyruvate Kinase Deficiency (Terrier Type)
Von Willebrand Disease I
Complete Eye exam
Patella's checked
Hips x-rayed
NOTE: We are preparing several of our Westies for AKC Confirmation this year so we won't be planning on litters for most of 2021. Thank you.




UNDER CONSTRUCTION... SORRY FOR THE MESS :)